Craft Cocktails Set to be a Leading Trend in 2013
We all know restaurants have been turning more and more to local producers as the sources for their foods. According to Executive Chef Sean Brock of McCrady's in South Carolina, who was featured in a PBS report in April 2012, the reasons are simple: Food tastes better when produced locally because it travels less distance and thus remains fresher when it arrives.
It makes sense, then, that this quality trend is beginning to take over cocktail making. If people demand this level of quality in their food, they were bound to expect the same in their drinks. A recent National Restaurant Association survey called "What's Hot in 2013 Alcohol" confirms this trend — bartenders think craft cocktails will be one of the leading trends in the coming months. Also cited by the survey respondents were: culinary cocktails, locally produced spirits, and locally sourced fruit/berries/produce – all placing in the top 10 trends for 2013.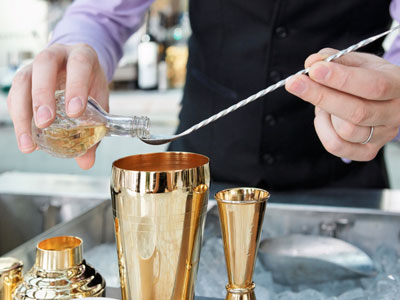 Will 2013 show a strengthening of these trends? Let's take a look at some bars and restaurants that are ahead of the curve and have already been supporting the craft cocktails trend.
On-Trend Bars and Restaurants
"You can use technology and creativity to make an effective, engaging product or campaign that gives customers something to remember about your restaurant."
The Pinewood Tippling Room in Decatur, Georgia, is a perfect example of a restaurant that focuses on a regionally sourced and inspired menu. Examples of cocktails inspired by local ingredients include the Golden Fiddle, which is a rum-based drink that includes Georgia sweet potato, and Day That I Die, which is a rye-based drink that includes roasted Georgia pecan tincture. Everything (other than the liquor) is made from scratch, from syrups to sodas to jams. They couple top-shelf spirits and house-made ingredients to create fresh, quality cocktails.
The People's Last Stand is another great example of how craft cocktails can enhance a menu. This Dallas, Texas, establishment uses natural, organic ingredients in a majority of its menu in an effort to produce healthier, tastier food and drinks. Instead of using manufactured store mixers, their employees will juice 50 to 75 pounds of produce every week, from pineapple to grapefruit. They also make bitters, syrups and infusions in-house. One of their more interesting concoctions is the Straight to Hell, which features Vida mezcal and Rothman & Winter apricot liqueur along with ginger syrup, lime juice, fresh jalapeno and muddled Thai basil.
Then there are places like Bardenay Restaurant and Distillery, where spirits are actually distilled on-site. Located in Boise, Idaho, Bardenay makes its own vodka, gin and rum that will serve as the base in common drinks like martinis along with the restaurant's featured beverages. According to its website, Bardenay is the first restaurant distillery, and it's proud to provide drinks in the spirit of Idaho.
A Sampling of the Latest Craft Cocktails
Because of the effort of places like the ones described above, quality ingredients are inspiring some pretty innovative cocktails. For example, Forbidden Island, a tiki bar located in Alameda, CA, makes a drink called the Rose Sazarac. This drink is a twist on the original cocktail because it uses St. George Absinthe and rose syrup to enhance the floral, herbal flavors. It also incorporates Black Maple Hill Small Batch Bourbon to further up the quality. Forbidden Island makes its syrups and juices in-house, and the syrups are made with pure cane sugar and grenadine instead of corn syrup. Going the extra mile for freshness and taste helps pull off this intriguing drink combination.
The Jack-Rabbit Sour made by Root Down in Denver, Colorado, is another example of a drink with a lot of character. Its base is Applejack, a spirit popular in America in the 17th and 18th centuries, but seen infrequently in cocktail recipes today. Add to that maple syrup, orange, lemon and egg white, and you've got this unique cocktail. What makes it work is the fact that Root Down uses local produce whenever they can while also not being afraid to search a little farther for whatever ingredients they think are the best.
So is this trend here to stay? Well, it seems more and more, people are deciding that freshness, quality and a local connection are important in cocktails, and both bars and restaurants are catching on to this expectation. Even if it takes more time and effort, making a better-tasting, fresher drink will make a difference in customer satisfaction – and that means more repeat orders and more frequent customers. As we watch this bartending trend continue to gain momentum in 2013, always make sure to be thinking about your local produce opportunities and how to craft them to stay one step ahead.